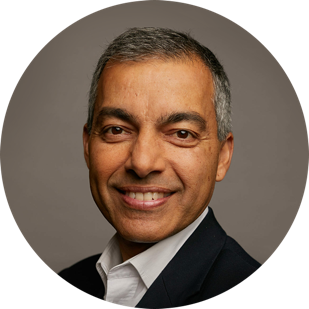 Recognizing the potential of quantum cybersecurity in the early 2000s, Vikram Sharma sought to commercialize the technology, returning to the Australian National University to work with the Quantum Optics Group in the Department of Physics. QuintessenceLabs emerged from the world-leading research conducted by the group and is today positioned as a global leader in quantum cybersecurity. The company's capabilities have received numerous awards including global runner-up from a pool of 2,500+ companies in IBM's SmartCamp competition, Top 20 Westpac Businesses of Tomorrow, Security Innovation Network's SINET16 Cyber Security Innovators, CyberTech 100, and most recently, recognized as a Global Innovator by the World Economic Forum.
Prior to QuintessenceLabs, Vikram had deep experience in building and managing technology companies. He founded two successful start-up ventures in the information technology infrastructure and services spaces — a consulting company providing IT services to the Federal Government in Australia, and one of India's first private ISPs. He started his career as a programmer analyst and went on to work as a consultant with several leading professional services firms in Australia.
Vikram holds a Master of Science in computer science from The Australian National University, a Master of Science in management (Sloan Fellow) from Stanford University, and a doctorate in quantum physics from The Australian National University. He was presented the Pearcey State Award for Entrepreneurship in 2013. In 2014, Vikram was invited by the UK Government to join an expert panel for its flagship Quantum Technology Hubs program. He is a member of the Advisory Board of the Sydney Quantum Academy and serves on the World Economic Forum's Global Future Council on Cybersecurity. He is a regular contributor to journals and a frequent speaker at conferences. Vikram's TED Talk on "How Quantum Physics Can Make Encryption Stronger" has had over 1.2 million views.